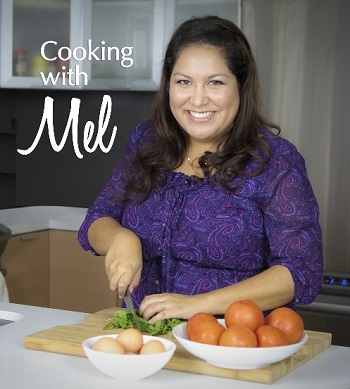 Chef Melissa Silva-Torcedo
After a youthful love affair with all things Julia Child, Melissa Silva-Torcedo catapulted her passion and love for the art of cooking into a successful career in the food industry starting in 2003. At the inspiration of her muse she graduated from Le Cordon Bleu in Pasadena, California in 2005.
Before hosting Cooking with Mel, Melissa put her cooking skills to work at 5-Star Restaurants in Los Angeles and San Diego, working alongside some of the best Chefs in the industry. She's also an author of two gourmet cookbooks.
Says Chef Mel, "Showing people how to turn ordinary food into extraordinary meals – that's my passion. Home cooked gourmet meals can not only be quick & easy-to-make, but affordable too."
Always the willing hostess and at her family's behest, Melissa caters to family and friends on a regular basis, to cries of "More! More!" for her signature dish of Macaroni and Cheese. Chef Mel's baking skills are also eagerly sought for birthday confections − especially her delicious cupcakes.
Melissa enjoys frequenting local restaurants to sample what's new and fresh in the industry, often recreating her favorites with her own unique twist!